ULTRA OPCTM contains the highest-grade ingredients in isotonic powder form. If you are not taking Vitamin C & E with your OPC you are not getting the full effect. The combination helps remove harmful free radicals.
We are able to sell to you at a low everyday price because Alwaysbuying.com is not a multi level marketing company so we do not have to overcharge you to pay for up-line distributors. At Alwaysbuying.com, you pay just for the product, not for other people making money off the sale.
AlwaysBuying.com has just teamed up with a major vitamin manufacturer and so we now manufacture, sell and ship Ultra OPC directly to you! Free Shipping AND Same day Shipping.
OPC FACT:
Antioxidant supplementation is necessary if we are unable to reduce our exposure to free radicals, but wish to counter their effect. OPCs should be taken in conjunction with foods or dietary supplements rich in vitamin C, vitamin e, beta-carotene, and selenium, to name a few antioxidants.
WE DO NOT USE GREEN TEA POWDER EXTRACT IN OUR ULTRA OPC
The National Institute of Health says green tea extract supplements have been linked to several cases of liver damage and can accelerate liver disease.
The US Pharmacopeia states that green tea extract side effects may be more likely on an empty stomach.
The green tea extract side effects included high levels of toxicity, vomiting, Constipation; diarrhea; nausea; restlessness; stomach upset; tremors; trouble sleeping…. and even death.
---
HELPFUL HINTS
While Ultra OPC is a fantastic product, to get the full benefits of a healthy lifestyle, you should also incorporate these few ideas suggested by Dr. Roberta Lee, Head nutritional director of Beth Israel Hospital, New York which we hired on a few occasions to lecture our clients.
Drink 8 glasses of water a day
Exercise 2-5 times per week
Stretch 3-2 times per week (Example: Yoga)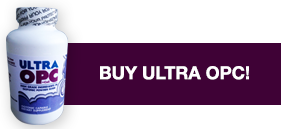 Nutrition Information:
Calories: 8
Carbohydrates: 2g
Sugar: 2g
Ingredients:
Grape Seed Extract: 25mg
Red Wine Extract: 30mg
Pine Bark Extract: 25mg
Bilberry Extract: 25mg
Vitamin C: 10mg
Vitamin E: 2iu
Citrus Extract Bio-Flavonoids: 25mg
Potassium (Bicarbonate): 93 mg
Other Ingredients:Fructose, Glucose, Citric Acid, Maltodextrin, Silica, Calcium Sulfate, Pectin and Proprietary Blend.