About Us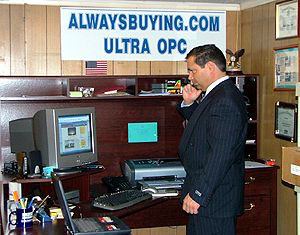 Gene Mazzulli founded Always Buying in 2000 after years of working for another opc distributor. He was fed up with the high prices that they were charging him because he had to pass that high cost on to his customers.
Now MR. Mazzulli is the CEO of Always Buying. He oversees all areas of the business. Always Buying now manufactures and distributes Ultra OPC. Thus saving all his loyal customers a lot of money. Try Ultra OPC today and find out for yourself the many health benefits of this product.
---
GMP Facility
Ultra OPC is manufactured in a GMP certified facility. Good Manufacturing Practices (GMP) are a set of guidelines outlining a system of processes, procedures, and documentation, which gives you the assurance that your product is correct, with the appropriate strength, composition, quality, and purity it should contain. Working with a reputable GMP certified vitamin manufacture gives you the peace of mind that each top-quality product you receive is exactly what you ordered.
GMP certified vitamins and supplements are produced under strict standards. GMP certified vitamin manufacturers are required to show that they can manufacturer, package, label, and store all products properly and safely. As a leader in the manufacture of certified GMP supplements, Private Label Nutraceuticals utilizes an advanced laboratory and manufacturing plant, able to produce large quantities of multiple products. With over 100,000 square feet of research, development, and production space, our GMP certified plant has the capability to provide quality control and analytic services.
Because of the size and operational efficiencies of our GMP certified manufacturing facilities, we are able to provide quick turnaround on both small and large orders, as well as provide low pricing. In addition, regulations for GMP certified means our Ultra OPC give you consistent quality that you and your customers demand!
Our state-of-the-art GMP certified plant is staffed by a dedicated group of research scientist and clinical staff, and features advanced manufacturing capabilities, including high-speed rotary compression machines, large volume blenders and high efficiency milling machines.